Experience microlight flying at its best!
Experience the ultimate flying sensation, experience a microlight flight in the Hunter Valley NSW Australia (near Newcastle). A range of microlight aircraft is available for many applications; from farming (fence line and cattle inspection), exploration and rugged landing conditions or just for the joy of flying!
Airborne Upper Hunter Flight Training offers:
Our Chief Flight Instructors can arrange microlight flight training for all applications in your area, and then provide sales and information on the Airborne microlight range and accessories.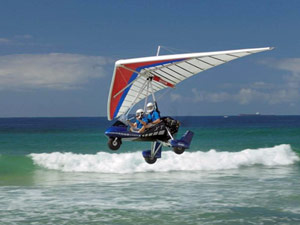 AirBorne Upper Hunter is the premier provider of microlight flight training in Australia. You can learn to fly a microlight with wheels and then proceed onto floats for water landings. Although we are based in Newcastle (Hunter Valley), we conduct training all over the country, and specialise in training overseas students.
Learning to fly a microlight is an experience that is fun, challenging and offers great rewards. Australia's airspace is relatively uncomplicated and there are few areas that are inaccessible to microlights. For microlights, there isn't even a need to report to a Control Tower.

Almost anyone can learn to fly a microlight - all you need is the desire and commitment. From the age of 15 you can start your training and by 16 be away flying solo, before your friends can even drive! For the more mature students, there is no upper age limit, as long as you meet the medical requirements for a car license, you can learn to fly a microlight.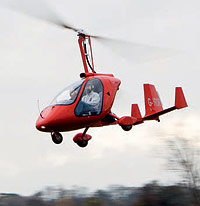 We now train in and sell Magni Gyroplanes, the worlds most popular Gryos. Magni Gyro is renown for their reliability and safety and are now available in Australia. Visis our gyro page to view the latest Magni Gyros.
Learning to fly a microlight with AirBorne Upper Hunter is great fun. Whether you just like the challenge of something new, want to overcome a fear or for the simple joy of open flight, we will ensure you get everything you need from your training.
Our experienced instructors are among the best in Australia and deliver a comprehensive course that meets all the regulatory requirements - your training is also individually tailored to suit each student's needs.
We understand that learning to fly takes considerable time and effort, so we are flexible in our hours. We fly 7 days a week, daylight to dusk, and can run theory courses at night if required.